June's Plant of the Month is Coral Fountain!
 *Russelia equisetiformis, Coral fountain, medium-sized, perennial shrub
The coral fountain is a flowering perennial plant with long, slender, arching, fountain-like branches that form a dense mound to four feet tall and six feet wide. Its weeping branches produce dark green, scale-like leaves on stems. The plant has showy, one- to two-inch coral red, tubular flower clusters through the fall and into the winter. The blooms attract hummingbirds and butterflies. It likes full sun or shade. During the hot months, the plant may become stressed if exposed to reflected heat.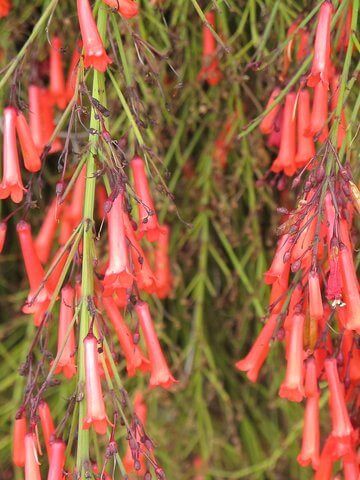 It is a moderate to fast grower and likes plenty of supplemental irrigation, and can take some drought during the cooler season. The coral fountain is hardy to the low thirties Fahrenheit and will suffer frost damage in the high twenties, but recovers quickly in the spring when daytime temperatures start to warm up. This plant is salt-tolerant and likes yearly fertilizer applications. The coral fountain needs rich, fertile, well-draining soil, and some protection from rabbits when young; use chicken wire for this purpose.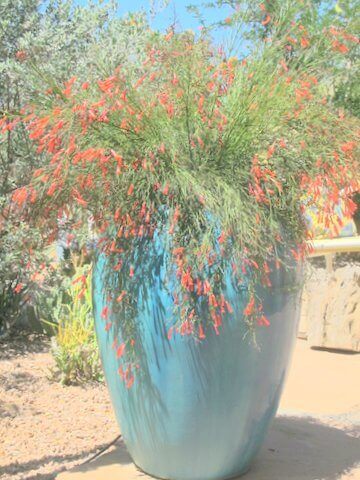 The shrub works well in pool areas, around ponds and water features, or cascading over banks, walls, and planters. Also, plant it in containers, as a foundation or color plant for tropical effects, and in hanging baskets, or train it to spill over a raised planter. It is an excellent plant to use in floral arrangements. This fast-growing plant is native to the humid, tropical areas of central Mexico, and has become established in areas of Florida.