Cascabela thevetia Yellow Oleander, Lucky Nut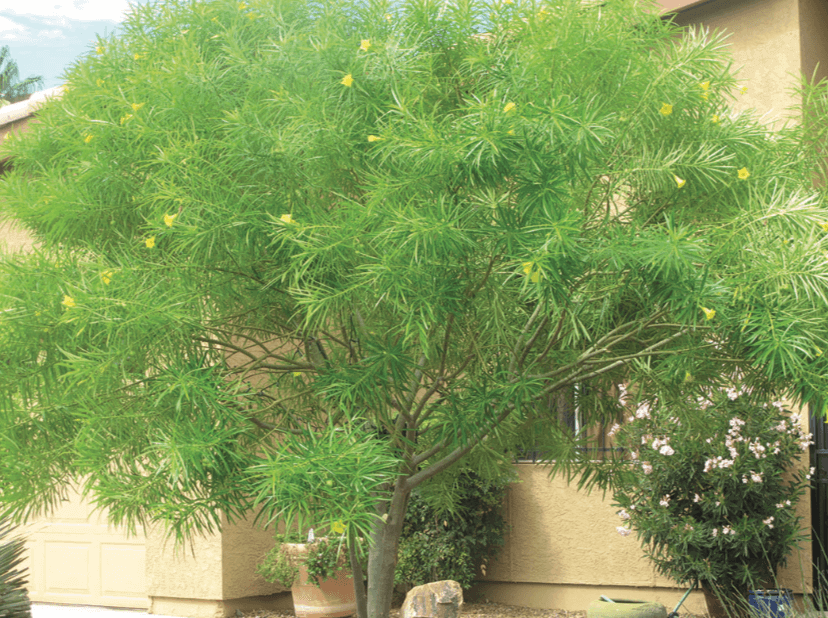 The tropical evergreen grows ten to twenty feet tall and six to twelve feet wide. It produces single or multiple trunks and can be grown as a tree or large shrub. Its bark is light brown and turns darker and more furrowed with age. The foliage is long and dark green with veins along the leaf. Yellow oleander produces fragrant, yellow, cream, apricot, or orange trumpet-shaped flowers in clusters. They bloom for a long period of time during the warm weather and attract bees, butterflies, and birds. After flowering, a greenish, two-inch long, lantern-shaped seedpod appears. The foliage of this plant can be damaged at twenty-eight degrees Fahrenheit, but it will recover quickly in the spring. Use the yellow oleander in protected areas in colder locations. It likes partial shade or full sun with plenty of reflected heat and prefers regular irrigation. The yellow oleander also likes to be planted in rich, well-draining soils. This will help prevent problems with iron chlorosis.
All parts of the plant are poisonous if ingested. Keep away young children and animals. This plant contains a milky sap compound that can be an eye and skin irritant. Use it in gardens for tropical effects, against walls, as a screen, in protected patios, and around pools for its lush, striking appearance. It can also be used in entry courtyards as a color and accent plant. The plant is a native to Peru, Central America, the Southern United States, and the Galapagos Islands.