How to Remove Mistletoe: the World's Most Beloved Parasite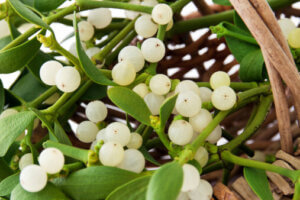 When most people think of mistletoe, they usually think of happy or possibly somewhat awkward holiday memories. However, when a landscaping company thinks of mistletoe, they probably see it for what it is: a parasitical plant that feeds on trees, and can, if left untreated, eventually kill them. If you have identified one of your trees to be infested with mistletoe, this article will teach you how to keep it off your tree and on your door frame, where it belongs.
Mistletoe is a Parasite?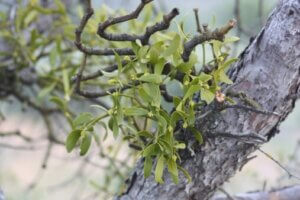 Yes, believe it or not, it is. Mistletoe spreads when birds feed on the familiar red berries and excrete the digested pulp onto a tree branch. Under the right conditions, a mistletoe plant will sprout from the host tree's tissue. Like all parasites, mistletoe depends on food and water from the host to survive, and this dependence eventually causes the host tree to suffer from ill health. In severe cases, loss of branches or even death of the tree may occur.
What Can I Do About It?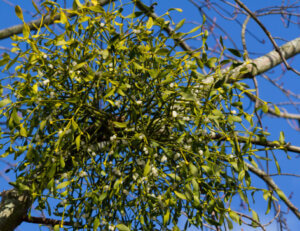 The most effective way to curtail the spread and effects of mistletoe is to prune out the infected branches as soon as they appear and before their roots become deeply embedded in the host tree's limbs. Infected branches should be pruned at least one foot below the point of plant attachment. Heavy infestations may require you to remove the entire tree, since the mistletoe can spread rapidly to your uninfected plants. At a minimum, prune the mistletoe from infected trees every six months to keep this parasite in check. Once the mistletoe is off the tree, simply throw it away- or you can get start selling it when December rolls around!
If your Tucson landscaping is suffering from health problems, pests, or parasites, give Horticulture Unlimited a call at 520-321-4678. Not only have we been in business since 1979, we pride ourselves on being one of the most knowledgeable and helpful landscaping companies in Tucson and have the know-how needed to keep your plants in top shape.