Plants of the Month: The Cape Honeysuckle and the Firecracker Bush
It's October, and we have two beautiful plants we'd like to feature as our plants of the month! October is all about Halloween, and just like a jack-o-lantern the flowers of these plants are a beautiful orange color. Best of all, they both grow very well in Tucson and all of Southern Arizona. First, let's take a look at Tecoma capensis, better known as the Cape Honeysuckle.

The Cape Honeysuckle (Tecoma capensis)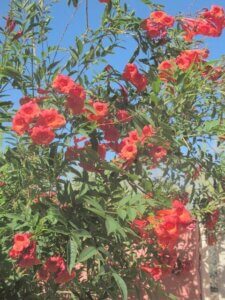 This fast-growing, sprawling plant typically reaches heights of five to ten feet high and is native to Swaziland and Mozambique on the southern coast of Africa. In the fall or winter, the distinctive red-orange tubular blossoms will begin to be produced. If you are a lover of hummingbirds, this plant is for you: it's flowers are great at attracting them. Being drought-tolerant makes this plant a great choice for Southwestern gardening, but it does require regular watering throughout the summer months.
The Cape Honeysuckle benefits from the application of ammonium phosphate fertilizers in the spring, and when the time comes to apply those fertilizers, make sure to prune any branches or foliage that was damaged by the winter frost. This plant works well as a screen, barrier, or hedge and can be trained to cascade over rocks or walls.

The Firecracker Bush (Hamelia patens)
The Firecracker Bush, also known as the Fire Bush or by its scientific name Hamelia patens, is a quick-maturing evergreen shrub that reaches up to six feet tall. It features bright green foliage and beautiful red-orange tubular blossoms. Like the Cape Honeysuckle, its flowers do a great job of attracting hummingbirds, and in the fall it develops black fruit that attracts other birds as well. It is native to Florida, the Caribbean, Central and South America, and as far south as Paraguay.
The roots of this plant are hardy to 20 degrees Fahrenheit, and recovers quickly from being frosted back. This plant likes full sun, yet it's leaves will wilt during drought conditions, making it a good water indicator. It can tolerate a diverse array of soil types, as well. The Firecracker Bush is best utilized in mixed perennial gardens or as an accent plant for water features and patios.
Horticulture Unlimited is an expert landscaping company in Tucson, Arizona.We specialize in landscape design, landscape maintenance, erosion control, weed control, tree services, irrigation systems and troubleshooting, and more. If you want to know more about our plants of the month for October, give us a call at (520) 321-4678 or contact us on the web to find out more about how we can beautify your home or business.