October's Plant of the Month is Pampas grass!
Cortaderia selloana, Pampas grass, ornamental grass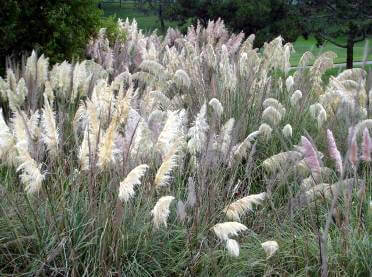 Pampas grass is a graceful-looking ornamental grass noted for its spectacular, whitish-pink flower plumes that cover the plant. It grows about eight to ten feet tall. Its leaves are serrated, narrow, and razor sharp at the edges. The genus name, Cortaderia, originates from the Spanish verb "to cut," best describing its dangerous leaf edges. The blooms appear in late summer as fountain-like clumps that stand about four feet above the mounding plant. Its flowers can be used in dried arrangements and the female plants generally produce a prettier bloom.
Plant the pampas grass in fertile, well-draining, loamy or sandy soil in either full sun or partial shade. This plant can handle some drought, but prefers supplemental irrigation and reflected heat. Its foliage often suffers from frost damage during the winter, but recovers quickly in the spring. Pampas grass is hardy into the low twenties and requires pruning of frozen foliage in early spring. Mature plants may need heavy pruning every few years to remove dried leaves and to reduce the size if the plant becomes too large. Use it as a focal point or specimen plant for its architectural beauty, or in groupings and wide-open spaces. Since it is a fast grower, it can be used as a screen or barrier plant and looks good when used next to tall palms in a tropical setting.
The blooms are extremely dramatic when grown in front of darker background shrubbery. Do not plant too close to walkways or pedestrian areas. Pampas grass is native to the grasslands of Chile, Brazil, and Argentina.