January's Plants of the Month are Rosemary and Heavenly Bamboo!
Happy new year, and welcome to the January installment of our "plants of the month" series. One of our January plants is one you likely know quite well, the popular herb Rosemary (Rosmarinus officinalis). The other is a plant you might not know so well, but should: Heavenly Bamboo (Nandina domestica). Both are great additions to your Tucson landscaping though! Let's take a look at both of them.
Rosemary (Rosmarinus officinalis)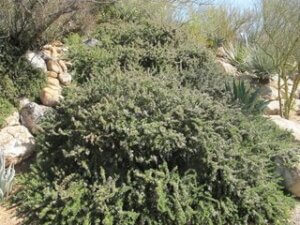 Rosemary is a very distinctive herb that's great for seasoning pork, chicken, turkey, and many other dishes. It also grows very well here in Southern Arizona! It's a hardy evergreen with needle-like, deep green, fragrant, and obviously edible foliage that grows three to five feet high and three to eight feet wide. In the spring and fall, it produces beautiful blue, lavender, white, or purple blossoms. Rosemary likes well-draining soil with full sun and reflected heat. It is extremely drought-resistant, but likes additional irrigation during the hot, dry season and does not like to be over-watered. Rosemary originated in the Mediterranean region, which is why it often finds its way into Greek, Italian, and North African cuisines.
Heavenly Bamboo (Nandina domestica)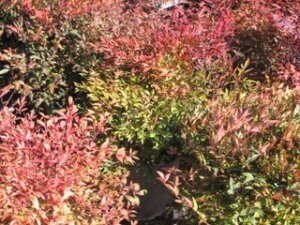 If you're looking for a plant to serve as a screen, background, hedge, container, or accent plant in an Oriental or Tropical setting, Heavenly Bamboo is for you. This woody evergreen is a native of China and Japan, and has distinctive foliage and an elegant appearance. It is noted for its beautiful winter leaf color in shades of green, red and maroon and grows six to eight feet in size. In spring, it produces small white flowers at the tip of each stem, which are followed by clusters of bright green berries that turn an exquisite red in the fall. The berries stay on the plant for months, producing a nice winter color and attracting birds. This plant prefers rich soils that are well-draining,  full sun, reflected heat, and supplemental irrigation, although it will tolerate occasional droughts. Whatever you do, do not heavily prune Heavenly Bamboo.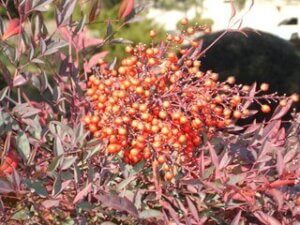 If you're interested in incorporating one of our plants of the month into your Tucson landscaping, give Horticulture Unlimited a call at 520-321-4678. Not only have we been in business since 1979, we pride ourselves on being one of the most knowledgeable and helpful landscaping companies in Tucson.