Gleditsia triacanthos var. inermis
The deciduous tree has a spreading growth habit and vase-shaped crown. It will grow to thirty feet wide and reaches thirty to forty feet tall with a beautiful, rounded canopy. The bark is gray- ish brown and becomes furrowed as it matures. When it leafs out in the spring, the lacy foliage is a light greenish-yellow. This tree produces inconspicuous, fragrant, greenish-yellow flowers in spring. Large, attractive seedpods hang onto the tree in the fall.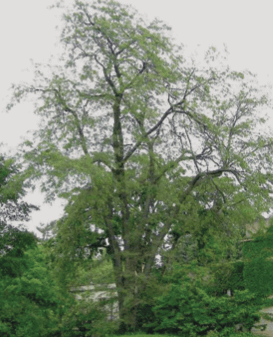 As the weather cools in autumn, the leaves turn a golden yellow and drop to the ground. The tree is hardy to about ten degrees Fahrenheit. It grows best in full sun or partial shade and has no particular soil preferences. The thornless honey locust is relatively free of pests or diseases. Provide supplemental irrigation every week during the hot, dry season. Stake this tree when young and prune as needed to help it develop a strong structure. This fast-growing tree is a great choice along a roadway, in parking lots, in parks, or as a residential shade or street tree. It can also tolerate small planting spaces. Some varieties to consider include "Sunburst," "Imperial" and "Shademaster." The thornless honey locust is native to the Midwest, where it grows along streambeds.