Our February Plant of the Month is the Evergreen Pear! (Pyrus kawakamii)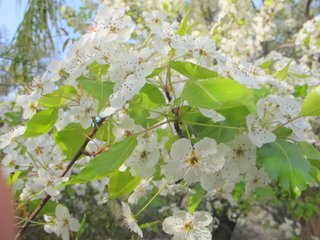 Happy February, and welcome to our next installment of our plant of the month series. This month, we'll be taking a look at the striking Evergreen Pear, a medium-sized tree that originated in China, Japan, and Taiwan but has extended its reach to Tucson as well! The Evergreen Pear is often one of the first trees to bloom in spring, and serves as a beautiful reminder that spring is upon us! These trees are very common in California and Arizona, so don't be surprised if you feel like you've seen this tree before here in Tucson. Here's everything you need to know about this exciting plant.
All About the Evergreen Pear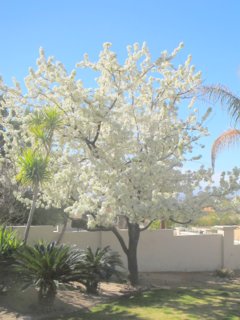 This tree is best known for its brilliant white blossoms that emerge in February, meaning that we'll be seeing its beauty here in Tucson soon! The tree's green leaves will turn a stunning orange-red in December and the trees grows no taller than 30 feet high. Although it is called the Evergreen Pear, it does not produce the type of pears we've come to enjoy. Instead, it produces small, tan, inedible fruit. However, if you're a bird or butterfly lover, you'll adore this tree as it does  a great job attracting those creatures.
Caring For the Evergreen Pear
This tree prefers regular irrigation but does not like to be over-watered. It also likes full sun and sandy or clay well-draining soil, and is hardy to about fifteen to twenty degrees Fahrenheit. Apply ammonium phosphate fertilizer in the spring and iron chelate if the tree shows signs of iron deficiency. Over-pruning may inhibit the production of the showy white flowers. This tree works great as an ornamental tree against a house foundation, in patios, in courtyards, or as a single specimen for oriental, ornamental, or tropical effects. The Evergreen Pear is susceptible to Texas root rot and fire blight, which can disfigure and possibly kill the tree, so be on the lookout for it.
If you're interested in incorporating the Evergreen Pear into your Tucson landscape design, give Horticulture Unlimited a call at (520) 321-4678 to find out how we can transform your backyard. We love helping Southern Arizonans create beautiful landscapes that enrich their lives and the lives of their families.