Equisetum hyemale Horsetail, Scouring Rush Small-medium, perennial shrub
Horsetail is a fast-growing, reedlike perennial shrub that gets its name from the silicon crystals in its plant tissues that have a gritty texture much like a scouring pad. Historically, early pioneers used sections of the plants as a scouring pad to clean pots and pans. It offers vertical, jointed stems that are dark green and hollow. The plant grows three feet tall or more and produces tiny, green leaflets that grow around the stem to form a narrow, green band at each joint. This plant does not flower or seed but spreads by underground rhizomes. It does best in filtered sun to partial shade and has a higher moisture need, growing best in wet conditions.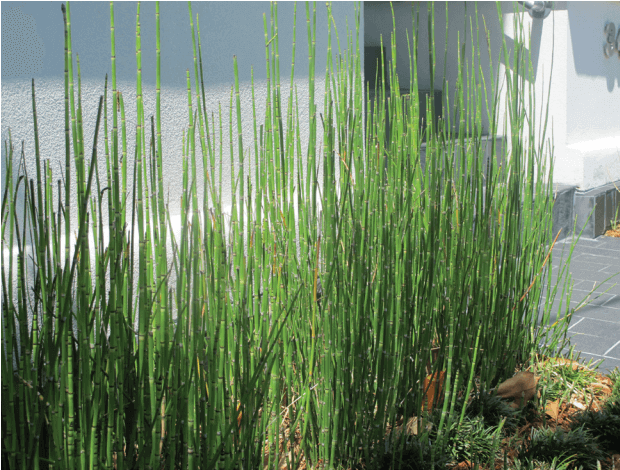 The horsetail also tolerates a wide range of soils but needs good drainage. It is hardy into the low twenties Fahrenheit and is a fast-growing plant.
Horsetail can be invasive in some parts of the country. Protect it from rabbits by placing chicken wire around younger plants. Use this whimsical plant in Japanese and ornamental gardens, around ponds, in tub gardens, and around other water features as well as in shady locations. Also, use in containers and raised planters for a strong, vertical accent, or cut its stems and mix them into flower arrangements. Parts of the plant are poisonous if ingested. It is native to wetlands, lakes, ponds, and rivers in South America, Canada, and the United States.