Cordia boissieri – Texas Olive Medium-sized tree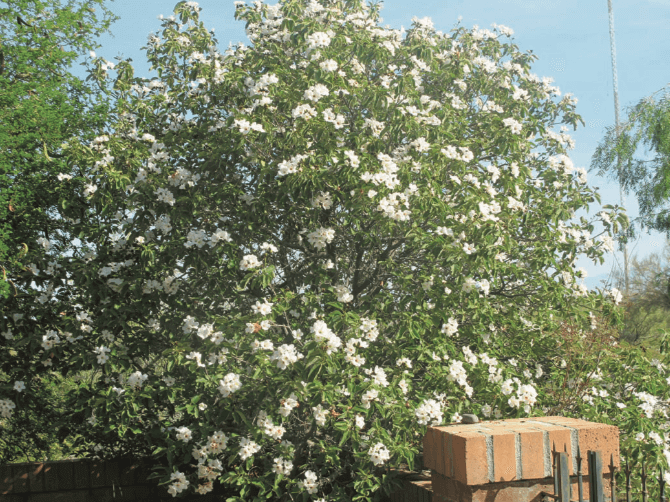 Texas olive is an evergreen to semi deciduous tree reaching fifteen to twenty feet tall and about twenty-five feet wide. It has multiple trunks with a dark gray bark and deep green, oval leaves that are large and leathery in texture. The under- sides of the leaves are covered in fuzz with deep, yellowish white veins. From spring to fall, it produces beautiful clusters of creamy white blossoms with yellow throats that attract hummingbirds.
After flowering, a small, non-edible fruit forms that resembles an olive and is eaten by birds. The fruit has also been used to make jellies in Mexico. Plant this tree in full sun with plenty of reflected heat. It is hardy to about twenty-five degrees Fahrenheit. If frosted, it recovers quickly in spring. The Texas olive likes supple- mental irrigation but can handle low to moderate water conditions with tolerance to salty soils, but prefers soil that is well-draining.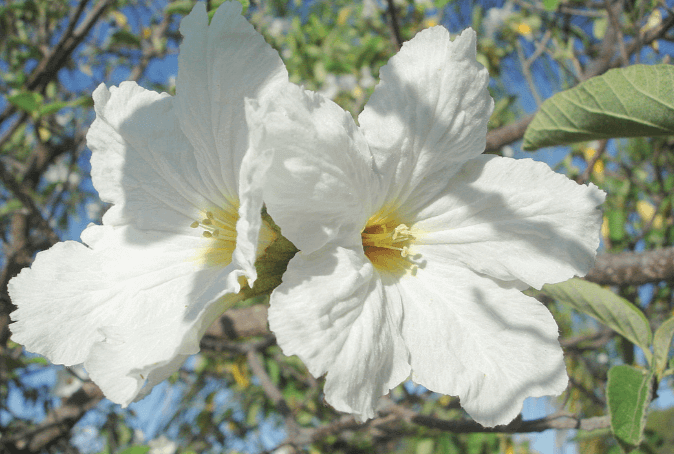 Water newly planted trees once a week until established and fertilize in the spring with ammonium phosphate. This is an excellent specimen and patio tree and can also be used as a screen, windbreak, or background planting in courtyards or medians and along roadsides. It is a great substitute plant for the white oleander tree. This tree is native to Southern Texas at the tip of the Rio Grande and also grows natively in Mexico in Coahuila, San Luis Potosi, Nuevo Leon, and Tamaulipas.