Check Out Our Plants of the Month For December!
Hello, Happy Holidays, and welcome to our plant of the month article for December! This month, we are featuring three varieties of the agave plant: the Artichoke Agave, the Queen Victoria Agave, and the Agave Americana var marginata, which is also commonly known as the "century plant". These plants are long-living, enjoy full sun, and are frost-tolerant, which makes them perfect choices for your Tucson landscaping in the winter.
The Artichoke Agave (Agave parryi var. truncata)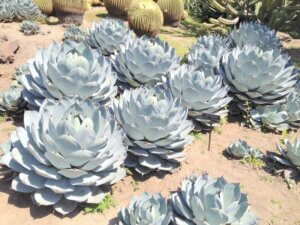 The artichoke agave is aptly named, as its leaves look quite similar to a typical artichoke. It is slow-growing and can reach heights of up to three feet tall and widths of up to four feet wide. It sports a frosty blue-gray color and, like other plants of its genus, produces a flower spike during the summer that can reach up to twenty feet high. This plant is tough; not only is it drought-tolerant, it is also hardy to 15 degrees or lower. The Artichoke Agave works well as an accent plant and can be used in rock gardens or containers.
The Queen Victoria Agave (Agave victoriae-reginae)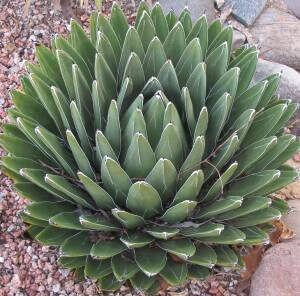 Named for British monarch Queen Victoria, this rare plant is recognized as an endangered species in Mexico, where it originates. It is small, yet simple and striking. It produces a red or purple-tinged white bloom after many years of growth, and will die after flowering, like the other plants of its genus. Although it is drought-resistant, it likes to be watered monthly, except during the winter when it should not be watered at all. This plants works well as a specimen or accent plant, but can easily be taken over by larger, nearby plants.
Agave Americana Var. marginata (Variegated century plant)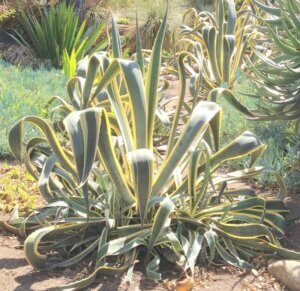 The Agave Americana var. Marginata is another frost-tolerant agave variety from Mexico that is well-suited for Tucson landscape design. This species sports whitish-yellow central leaves, bluish-gray margins, and a yellowish-green leaf stalk that appears after many years of growth. This plant is susceptible to damage from white grubs, so treat with Dimethoate insecticide twice a year to prevent infestation. This agave can be used in raised beds, containers, in cactus gardens, or as accents.
Horticulture Unlimited has been providing landscape design services to the people of Tucson and Southern Arizona since 1979. If you're interested in any of the December plants of the month for your residential or commercial landscaping, contact us at 520-321-4678 or visit our website for more information!