Blue Yucca is the December Plant of the Month!
Yucca rigida, Blue yucca, desert accent plant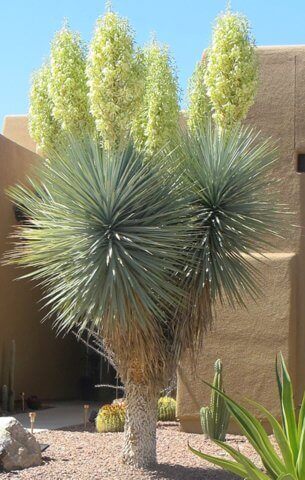 This yucca is a valued plant for desert gardens because of its stiff, flat, powdery blue leaves. It is a tall plant that grows moderately to twelve feet with an eight-foot spread. As the plant matures, the trunk may develop a thatch skirt. It has attractive, long, bluish-gray, sword-like foliage with a sharp tip and yellow margins. A creamy white cluster of bell-like flowers appears from the center of the plant in the late spring or summer. The blooms grow on five- to six-foot stalks above the plant, adding a nice color show in contrast to its blue foliage. After flowering, it produces small, black seeds that are contained in two-inch long seed capsules. It is hardy to five degrees or lower.
The blue yucca likes full sun, reflected heat, and grows best in rocky, desert soils that are well-draining. It is drought-resistant and needs very little supplemental irrigation except during hot, dry summers. Plant this dramatic looking yucca where it has ample room to grow and away from high traffic areas. The sharp points on its leaves are extremely dangerous. Use it as a silhouette or focal point in the landscape and combine this showy plant with other shrubs and groundcovers to create a striking effect. The blue yucca also looks very attractive when planted with other dark green vegetation. This plant is native to the Mexican states of Chihuahua, Coahuila, Durango, and Zacatecas.