Annuals and Perennial Flower Color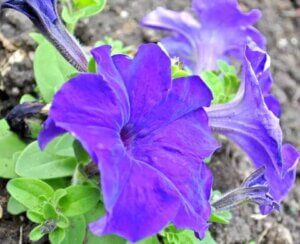 Annual and perennial flowers provide a lot seasonal color. They are a quick and easy way to add beauty, color, and visual effects to any landscape palette. Flowers used in garden beds or in containers make spectacular accents.
You have many plant choices and color combinations for any garden spot. Using annuals with the same color in masses produces a dramatic effect, especially in a small bed. Larger flowerbeds filled with an array of colors works well when using taller flowering plants in the background, and medium sized plants in the middle. Use low-growing color plants in the foreground to fill in open areas. Seasonal annuals or perennials are great for beginning gardeners because they are so easy to grow. It is fun to experiment and try different plants and color combinations. Since annuals only last for one season, you can try different kinds of plants each year or keep the same combinations that are pleasing to you and grow well in your garden.
So, how do annuals and perennials differ? Annual flowers complete their life cycle within one year or less. Perennials produce many flowers and seed but do not always die at the end of the growing season. In warmer climates, they can live for several seasons. As a good rule of thumb, when planting perennial gardens, provide extra space between each plant. Annual plants, however, can be packed in tightly to give the area a fuller appearance.
Let's take a closer look at annuals. They produce vegetative growth in the spring or fall and grow foliage, then produce flowers over a period of several to many months, and finally go to seed. Once the plants have produced seed, they die. An annual plant lives for one season whether it is a warm- or cold season-flowering plant.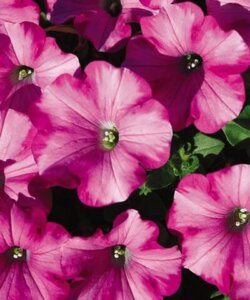 There are two main growing seasons for annuals in the Southwest desert. Some winter season annuals include the petunia, pansy, snapdragon, stock, alyssum, calendula, Iceland poppy, ranunculus, lobelia, and viola. These annuals are planted from October through March. Set plants out in the fall so they can become established before the cold weather begins. Some summer season annuals include the periwinkle, zinnia, marigold, celosia, begonia, cosmos, dahlia, dianthus, globe amaranth, nierembergia, portulaca, and salvia. These plants are installed in the spring through summer months. They need warm weather to produce and will freeze in cold weather.
Some annual plants grow in colder climates and may act as perennials in our warmer climate, where they can survive a heavy frost. Other annuals act like perennials because they drop a large amount of seed. The seed remains viable over the winter and new plants may emerge as volunteers where the older plant dropped seed the previous season.
Perennials produce many flowers and seeds, but unlike annuals, they may live a long time. The aboveground vegetation of perennials will die back, but their roots remain alive and re-sprout at the start of the next growing season. They don't need to be planted every year. Some perennials live from two to five years, but the seeds they may drop will produce new plants. Perennial flowering plants usually have a peak blooming period during their growing cycle. Since they flower for a few weeks or more each year, with careful planning you can have some perennials in bloom for most of the year. Many perennials also have attractive year-round foliage, even after the blooms have died. They have extensive root systems and may need to be heavily cut back or divided up and transplanted after a few years.
Perennial blooms look best when planted in large masses as a border or against a backdrop or wall. Combine colorful annuals with perennials for a wonderful flower show. Some great perennial plants to use in the fall and spring include the chrysanthemum, coreopsis, carnation, daylily, Shasta daisy, bearded iris, penstemon, rudbeckia, gerbera daisy, trailing gazania, hollyhock, dianthus, geranium, salvia, and verbena, as well as some ferns.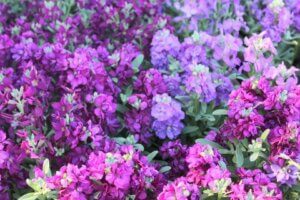 Make sure your site has good drainage and the correct amount of light. Many annuals and perennials need at least six hours or more of sun per day to grow and produce blooms. Some, however, require lightly filtered shade or full shade. Once you have found the right location, add mulch to the flowerbed and dig the mix to a depth of one to two feet deep. Annuals are more shallowly rooted than perennials. When planting a flowerbed with only annuals, the soil depth should be at least twice the size of the plant's root ball. Since perennials last in the soil for a long time, their roots need more room to grow. Therefore, plant it in a deeper hole. At installation, and after soil preparation, add some ammonium phosphate fertilizer (16-20-0) into the soil at two pounds per 100 square feet of planting space. There are many pre-mixed fertilizers available in garden centers that will suffice, but make certain they include phosphorus. The phosphorus in the fertilizer helps initiate blooms.
When installing plants set them in the soil at the same level or slightly lower than the pony pack or container in which they were originally grown. Many annuals are purchased by the flat, each of which usually contains sixteen four-inch sized plants. Other plants come in a flat of six plants. When planting, loosen the base of the plant slightly for better rooting in the planting bed. Carefully firm up the soil around the plants and then water them uniformly. Irrigate annuals once or twice a day during the hot weather and at least three times per week during the winter season. Always water flowers to a depth of twelve inches. Fertilize every four to six weeks with an ammonium phosphate fertilizer to keep plants continually blooming.
Annuals and perennials require some maintenance to keep them blooming through their growing season. Pick or remove spent flowers to hasten continued blooming and reduce the chances of the flower producing seed. If annuals or perennials get too leggy, prune or pinch back the excess growth. If plants go through a cold snap in the winter, they may need to be pruned back a bit. When warmer weather returns, the plants will start to bloom again. Fertilize plants and water them to encourage new growth.