Agapanthus africanus African Lily, Lily of the Nile Small-sized shrub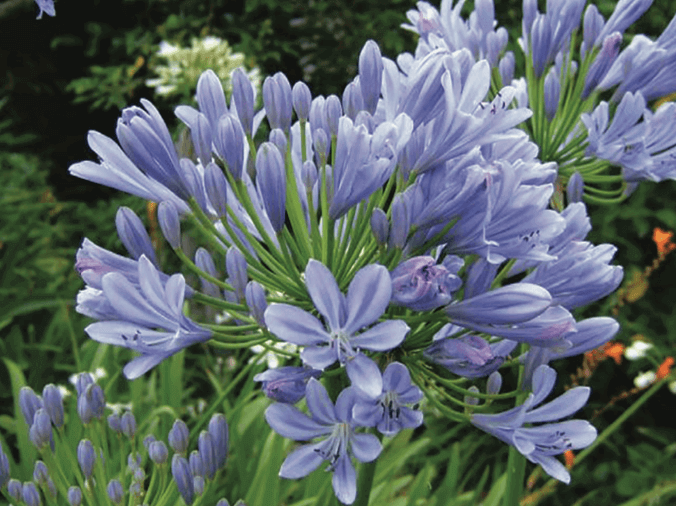 This tropical evergreen reaches heights of eigh- teen inches to two feet and grows two feet wide with fleshy rhizomes that spread and reproduce.
From spring to late fall, clumps of long, shiny leaves grow upright into a whorl and then start to arch in a downward appearance. The showy, pendulous flowers grow upright out of the plant and are topped with large, funnel-shaped clusters of white, violet, or blue flowers resembling lilies. The plant is hardy to about twenty degrees Fahrenheit and does not tolerate freezing temperatures for long periods of time. It likes rich, well-draining soil that is amended with organic materials and light applications of ammonium phosphate fertilizer in spring.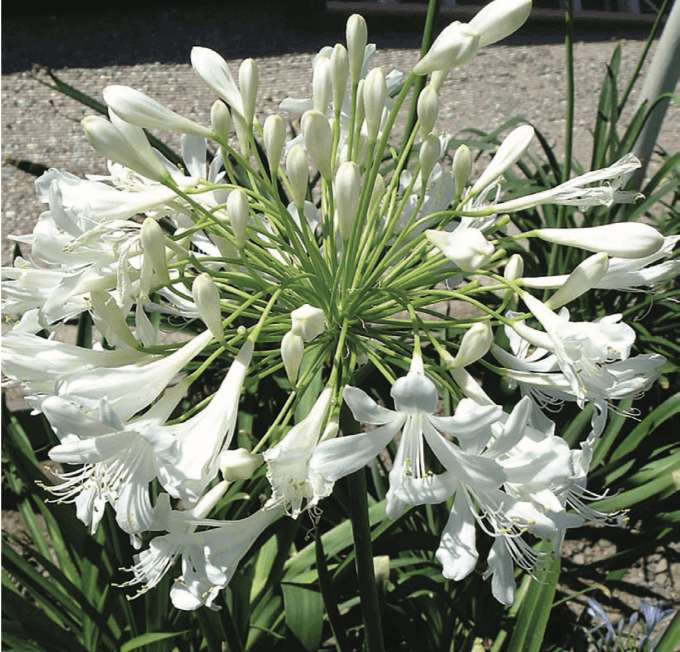 The plant is easy to grow but requires regular irrigation and partial shade. There are about ten different varieties avail- able that produce varied flower color. Use caution and wear gardening gloves when handling this plant because it is a skin and eye irritant. It can be easily divided for propagation and transplanting. Use it in containers, borders, small courtyards, and atriums, as accents mixed with other plants in tropical settings, or in shady conditions around ponds and water features. The flowers can be cut for indoor use and last up to a week in a vase. The dried seed part of the plant looks interesting in arrangements as well. This plant is a native of South Africa in the Cape Peninsula, where it grows from sea level up into mountainous terrain in acidic, sandy soils between large boulders and rocks and on sheets of sandstone rock.